Mixed Martial Arts MMA History Exhibit at Heinz History Museum. Pioneers Bill Viola and Frank Caliguri are honored at Kumite Classic Pittsburgh, PA.  Viola and Caliguri are know as the Godfather's of MMA in the United States, creating a new sport in 1979 know today as mixed martial arts. The Kumite Classic played host to the Pittsburgh MMA Hall of Fame.

The Western Pennsylvania Sports Museum of the Heinz History Center of Pittsburgh, Pennsylvania in conjunction with the Smithsonian Institute unveiled an exhibit on 23 June 2011 to document the roots of MMA in Pittsburgh and first mixed martial arts league in the United States. The exhibit features memorabilia from the mixed martial arts based competitions including rare posters, fight gear, press materials, and photos that depict the event. The exhibit began as a temporary display in the front of the museum, and will ultimately find its home as a permanent addition to the boxing and wrestling sections of the Sports Museum. The Senator John Heinz History Center is an affiliate of the Smithsonian Institution and the largest history museum in Pennsylvania.
"The Sports Museum has brought to light the central role that Pittsburgh has played in the sports of boxing and wrestling, focusing on such greats as Bruno Sammartino and Kurt Angle," said Anne Madarasz, co-director of the Western Pennsylvania Sports Museum. "This exhibit adds a new chapter as we trace the roots of mixed martial arts in the United States back to the Pittsburgh region."
The Western Pennsylvania Sports Museum is a museum within a museum, comprehensively presenting the region's remarkable sports story through hundreds of artifacts and interactive experiences for visitors of all ages. The History Center and Sports Museum are located at 1212 Smallman Street in the city's Strip District. More information is available at www.heinzhistorycenter.org.
For Viola, to be associated with the Western Pennsylvania Sports Museum is a true honor.
"That was our project, our child," Viola said. "We were the brainchilds of this. We were the Barnum & Bailey promoters of this event. We went completely outside of the envelope when no one believed it could happen."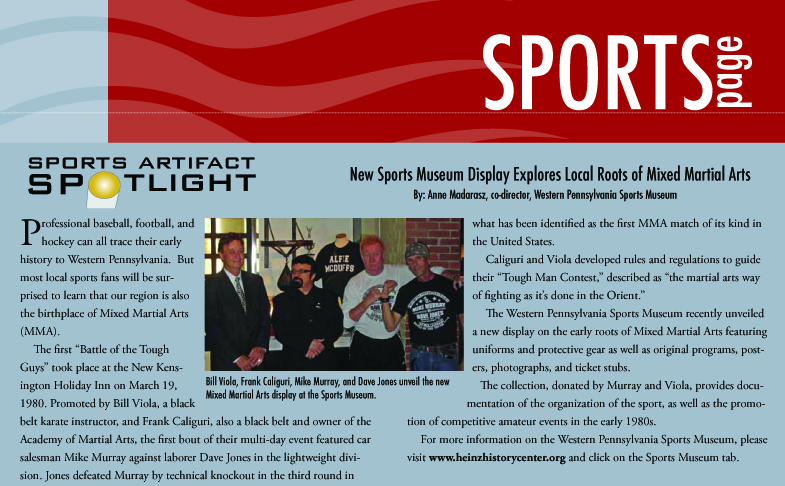 New Sports Museum Display Explores Local Roots of Mixed Martial Arts
By: Anne Madarasz, co-director, Western Pennsylvania Sports Museum
Professional baseball, football, and hockey can all trace their early history to Western Pennsylvania.  But most local sports fans will be surprised to learn that our region is also the birthplace of Mixed Martial Arts (MMA). The first "Battle of the Tough Guys" took place at the New Kensington Holiday Inn on March 19, 1980. Promoted by Bill Viola, a black belt karate instructor, and Frank Caliguri, also a black belt and owner of the Academy of Martial Arts, the first bout of their multi-day event featured car salesman Mike Murray against laborer Dave Jones in the lightweight division. Jones defeated Murray by technical knockout in the third round in what has been identified as the first MMA match of its kind in the United States. Caliguri and Viola developed rules and regulations to guide their "Tough Man Contest," described as "the martial arts way of fighting as it's done in the Orient." The Western Pennsylvania Sports Museum recently unveiled a new display on the early roots of Mixed Martial Arts featuring uniforms and protective gear as well as original programs, posters, photographs, and ticket stubs. The collection, donated by Murray and Viola, provides documentation of the organization of the sport, as well as the promotion of competitive amateur events in the early 1980s. For more information on the Western Pennsylvania Sports Museum, please visit www.heinzhistorycenter.org