Inspired by the book Godfathers of MMA:
The AFI DOCS Interview: TOUGH GUYS Directors Henry Roosevelt and W.B. Zullo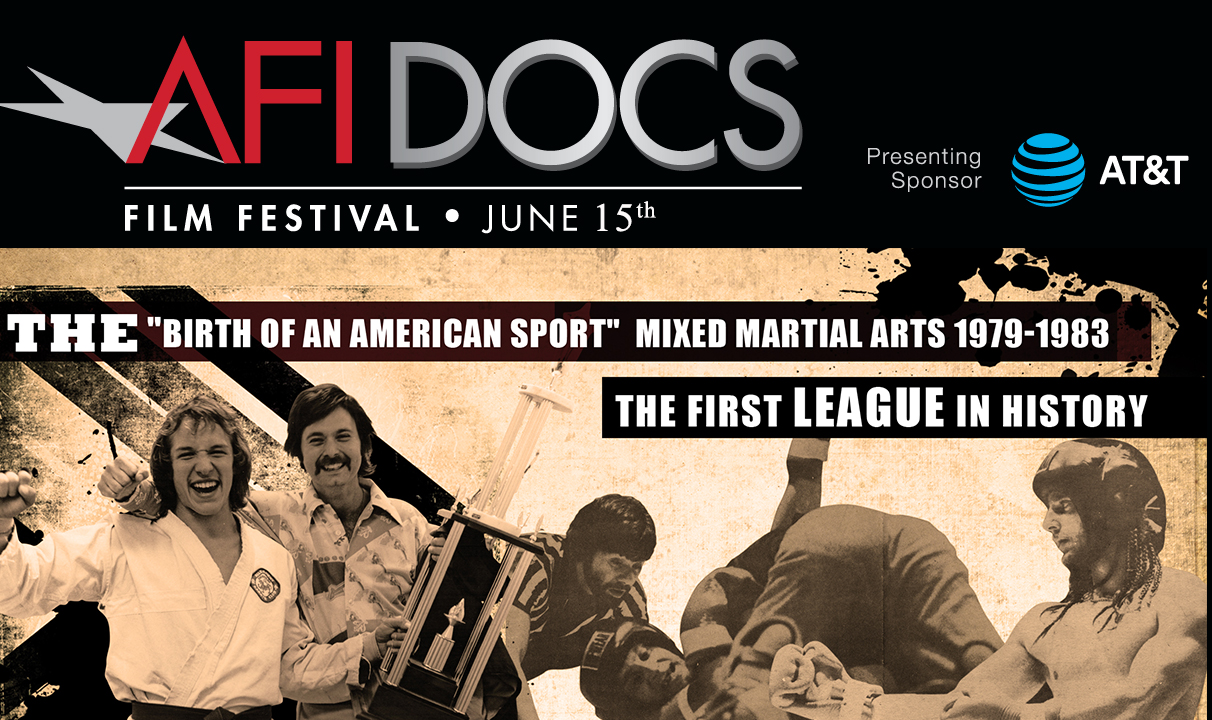 Told through the colorful stories of scrappy brawlers and amateur promoters, TOUGH GUYS brings to life the birth of mixed martial arts competitions in 1980s Pittsburgh. The idea to legitimize street fighting by putting it in the ring brought big money, crowds, copycat competitions and ultimately scrutiny and tighter control.
AFI spoke with directors Henry Roosevelt and W.B. Zullo about the film, which makes its world premiere at AFI DOCS as part of the Spotlight Screenings section.
AFI: What led you to pursue documentary filmmaking? 
Focusing on a single story and telling it in a more fulsome, comprehensive and visual way.
AFI: What inspired you to tell this story?
The 1980s and growing up during the golden age of action films.  From Van Damme and Eastwood to Schwarzenegger and Stallone, the culture was saturated with cinema tough guys.  As we got older, we often wondered whether movies like BLOODSPORT, KARATE KID and OVER THE TOP were art imitating life or whether the tough guy tournaments we explore in our film took their cues from blue-collar brawlers created by Hollywood.
AFI: How did you find the subjects in your film?
On a visit to Pittsburgh, at the Heinz History Center's Western Pennsylvania Sports Museum, we came across a small exhibit that made an intriguing claim: The roots of the modern sports colossus we know as mixed-martial arts were planted at a New Kensington Holiday Inn in 1980. 
The fliers for the fights, which pitted lumberjacks against bikers, steel workers and other rough-and-tumble trades, so perfectly encapsulated that action-star era that we found ourselves incredibly curious about the men who chose to step into the ring. Why did they do it? What were they trying to prove? What happened to the fledgling league they were trying to get off the ground? 
We were sure there was a great story in the hustle of the promoters and the backgrounds of the fighters, not to mention what happened in the ring.
AFI: What was a particular obstacle you faced while making the film?
Tracking these guys down and getting them to agree to be on camera. Bill Viola and Frank Caliguri have stayed in touch with some of the fighters in their circles over the years, but we wanted to tell as many aspects of the story as possible. That meant finding guys they hadn't heard from in some cases since the early 1980s. That proved a chore, but the effort was well worth it in order to get interviews with, for example, Danny "Mad Dog" Moyak and his nemesis, Frank Tigano, who we convinced to fly in to Pittsburgh from Florida for an interview.
Also, when we first made contact with Bill and Frank, we assumed there was video of all the fights they promoted. Unfortunately, we discovered that much of the footage was destroyed in a flood, forcing us to recreate some of the fights that were central to our story arc.
AFI: What do you want audiences to walk away with after screening your film? 
We want to cast some light on a fascinating footnote from a unique time and place. Western Pennsylvania in the early 1980s was grappling with unemployment rates that were worse than during the Great Depression, as a result of the crippling decline in steel and related industries. People were desperate, and some of the fighters got in the ring for money, which in some cases was exploited by promoters. But others were trying to prove something to themselves and the world. We really think the story here is why these guys risked it, what they were trying to validate about themselves at a time when America was really changing for blue-collar workers. 
We also want people to enjoy this film and its real-life characters for their own sake, including their long-held grudges and still-unsettled scores.
AFI: Why is Washington, DC, a valuable location to screening your film?  
It's a well-worn trope, especially after the election, but we also think it's important because too often people in Washington forget about pockets of the country that have suffered from the economic challenges of the past 30 or 40 years.
AFI: Why are documentary films important today?
People love stories. But they really love true stories. Documentaries educate and they inspire, but if the subject matter is good and you don't get in the way of the story too much, they can also entertain.