Kumite Classic Entertainment  (KCE) Est. 1999
Kumite Classic is a Pittsburgh, Pennsylvania based sports production company. Each year the company produces the annual self-titled "Kumite Classic" and the annual Pittsburgh Fitness Expo on Memorial Day Weekend at the Monroeville Convention Center.
The classic is a series of combat sports tournaments, championships and competitions that includes open and traditional sport karate, grappling, Brazilian Jiu-Jitsu, Kung Fu, Tang Soo Do, Tae Kwon Do and other martial arts.
The convention hosts action sports and fitness competitions including:  Crossfit, powerlifting, strongman, wrestling, teen strength, (body building, fitness, figure, physique, bikini, model competitions) are more.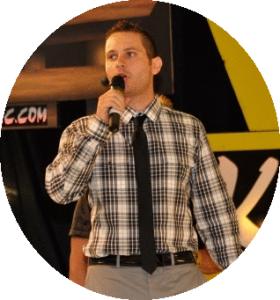 ABOUT THE PRODUCER:
Bill Viola Jr. is the founder and president of Kumite Classic Entertainment.  Kumite Classic is a industry leader in the fitness and martial arts genre.  The Pittsburgh Fitness Expo is the most established expo of its kind in Western Pennsylvania.  The show caters fitness enthusiasts and fans, and showcasing the latest products, equipment and trends in the world of fitness.
As graduate of the University of Pittsburgh, he is the creative force behind Kumite Classic Entertainment which oversees the region's largest multi-sport event (The Pittsburgh Fitness Expo).  His resume includes film producing, talent management, journalism, and mixed martial arts historian.  He is a member of the Sport Karate Museum Hall of Fame and recipient of the Willie Stargell Pittsburgh MVP Award.
His most recent work is the creation of the "Sensei Says" martial arts curriculum, which has had a direct positive impact on the North Huntingdon community implemented with "Norwin Ninjas."  Norwin Ninjas is the sister program of his families karate business (Allegheny Shotokan Karate) which his father, Bill Viola Sr., established in 1969.  The Ninjas teach life skills, and mentor kids to become future black belts.  Viola Jr. explains, "We build champions in life." He is part of a growing Pittsburgh karate legacy that that includes all four of his sisters and his daughter, Gabriella Capri Viola, a Kindergartner at Stewartsville Elementary.  Viola Jr. is the author of the critically acclaimed book, Godfathers of MMA, and published by Kumite Classic. The book is the inspiration of the upcoming film Tough Guys (2016).   read more.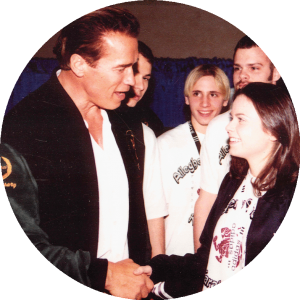 ABOUT KUMITE CLASSIC STAFF
World class experience makes a difference! Pictured left is Addie Viola, congratulated by Arnold Schwarzenegger after winning an Arnold Classic Title, in Columbus, Ohio. -1998. Our staffs of over 100 industry professionals and volunteers are handpicked from around the world to organize and coordinate The Kumite Classic Expo.