Karate training is all in the family for these sisters
Justin Criado For The Times
FINDLAY TWP. — One step inside the White Viper Karate studio and it's clear that success is paramount.
The numerous trophies and awards cover almost every inch of the family-owned dojo in Findlay Township.
"It's a total family effort," master Pete Chase said. "We take the time, the five of us together, to train individually. It's a really unique situation and it's something that my wife and I are very happy doing."
The Chase family, of North Fayette Township, may very well be the first family of martial arts right now. The daughters — Brigid, 16, Hope, 15, and Elizabeth, 13 —  dominated the National Black Belt competition, receiving national acclaim and sponsorships, all before earning their driver's licenses.
"Martial arts is kind of like football or soccer for us," Brigid said.
In December at the 2013 Super Grands World Games in Charleston, S.C., the Chase sisters earned 12 world championships and eight world titles combined, including Hope's two overall championships in traditional form and points sparring, which was the first time since the league began in 1989 that any competitor ever accomplished such a feat.
Bill Viola Jr. of Pittsburgh's Team Kumite — an all-star travel team — is the girls' instructor and remembers when he first started training them five years ago.
"I've seen them since the beginning and seen that they had some raw potential just when they were fledgling martial artists," Viola said. "Those girls are not only athletic and gifted girls, but they're just determined like no other competitors that I've seen in a long time."
Pete has been seriously involved in martial arts himself since he was 16, and always wanted his children to do the same.
"I've always known that when I had kids that I would get them into it, whether they were boys or girls, because it's a way of life for me," Pete said. "It's a way of life for all of us."
The girls started training when they were 4, 5 and 6 years old, and at first weren't all that interested the sport.
"They went through all of the hiccups that kids have in training," their mother, BrigidAnn, said. "They had to go through the same learning challenges of mastering those different developmental levels like any other sport."
Hiccups behind them, the Chase sisters decided to dedicate their lives to martial arts, training six days a week in the family's converted garage. They are being home-schooled and joined Team Kumite five years ago.
In May 2011, the Chases opened White Viper, but even that hasn't been enough for the power trio.
"Now they're at the point where my wife and I can't even keep up with everything that they want to do in the martial arts realm," Pete said.
Bruce Chapman has served as the gym's technical adviser for the past three years, and trained Pete when he was a teenager in New Jersey. He still visits the family from his New York home a few times a year.
"You're looking at a society that's terminally disconnected from their families," said Chapman, who has a background in psychology. "It (the Chase home) is about the healthiest home I have ever seen."
The girls have gone on to train in boxing, mixed martial arts and weapons, excelling in each.
"I've seen many competitors come and go, and champions come and go," Viola said. "They've definitely established themselves as a world-class act this year."
Trophies and world championships and sponsorships aside, the sisters try to push the sport of karate forward, individually and as instructors.
"Hopefully when the people I'm training now become champions when they get older that they train (younger students) to get better than me," Hope said. "I want to pass that skill on so much that they keep getting better."
With so much success already, the sisters are aiming at an even bigger prize
"I want to get in to the UFC and I want to become the women's world champion," Brigid said.
Hope echoed the same sentiment, but slightly different.
"I also want to become a women's UFC world champion — just in a separate division as Brigid, because I'm not going to fight her."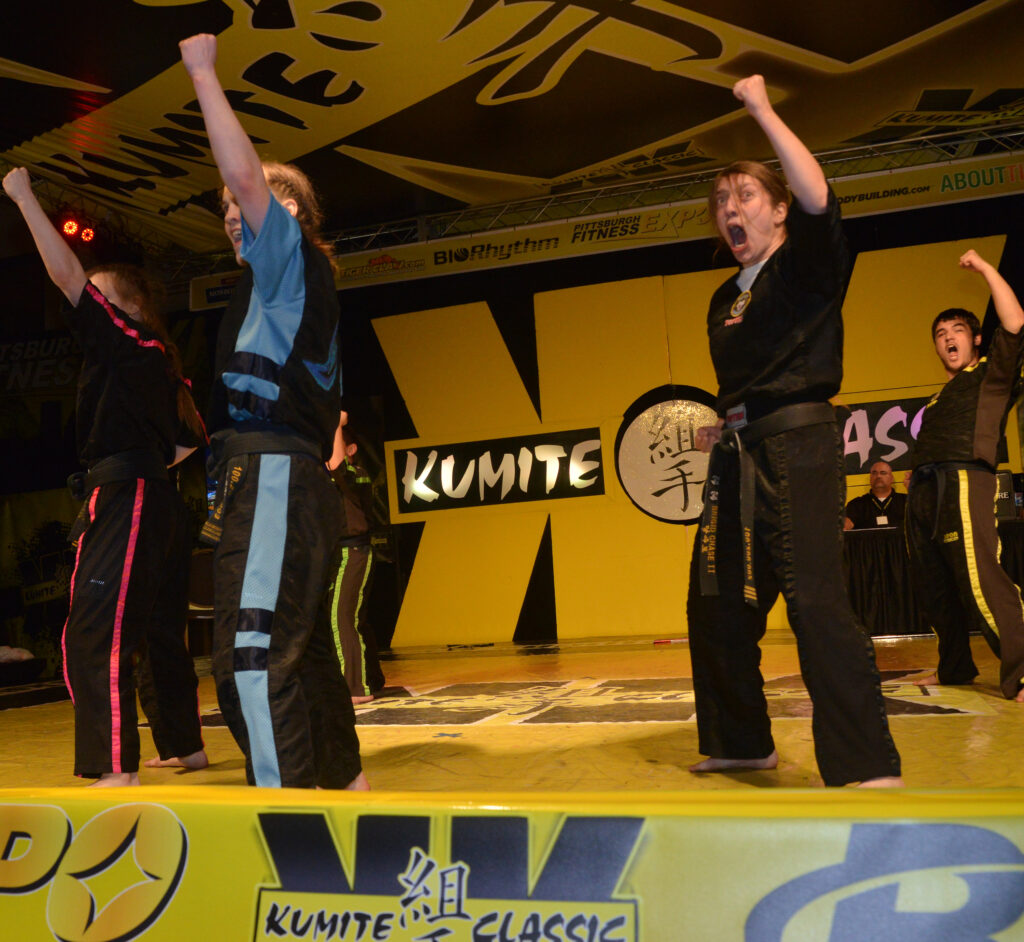 Chase Sisters Capture Sport karate World Titles
At the Super Bowl of sport karate competition, the
National Black Belt League (NBL) Super Grands, a local
trio of sisters made martial arts history by capturing 12
championship belts and eight NBL World Titles, Brigid
Chase, "Hurricane" Hope Chase and Elizabeth Chase of
West Allegheny School District.
15-year-old "Hurricane" Hope Chase made history by
herself by becoming the first ever NBL competitor to earn
two Overall World Grand Championships at the Super
Grands New Year's Eve Grand Finale in two opposite
spectrums of sport karate competition—traditional forms
and point sparring.
"This is the first time ever that a competitor captured
an Overall Grand in both forms and fighting," stated NBL
founder and President Boice Lydell.
Besides winning two overall World Grand Championships,
Hope Chase won four NBL World Titles in creative weapons,
Korean forms, point sparring and team sparring. Part of
the reason for Hope's "Hurricane" nickname, is not only
her world-class cardio conditioning and fighting ability, but
her blazing fast mastery of nunchucks (nunchaku). Hope
Chase also captured two NBL Silver Belts making it to the
finale stage two additional times for continuous sparring and
traditional weapons utilizing the aforementioned traditional
nunchaku. Earning an NBL Silver Belt is akin to winning a silver
medal at the Olympics.
16-year-old Brigid Chase earned two NBL World Titles
in team sparring and continuous sparring. Her sparring
team which consisted of her sister Hope Chase and also
11-year-old Sara Russell of Allegheny Shotokan in North
Huntingdon, PA, represented Team Kumite, one of the
foremost sport karate teams in the world founded by Bill
Viola, Jr. of Kumite Classic Entertainment in Pittsburgh,
PA. Brigid was considered the MVP of Team Kumite at
Super Grands.
Brigid maintained a number one seeded ranking
throughout 2013 in her continuous sparring division in
the NBL and proved the ranking accurate by capturing the
continuous sparring NBL World Title in her junior girls'
division defeating last year's champion and world class
competitor Karina Perea.
Brigid also made it on the finale stage for the second
year in a row at Super Grands with her traditional selfdefense routine. She earned a NBL Silver Belt in 2012 and
stepped it up in 2013 to earn another in a very hard fought
and competitive division coming in second to NBL World
Champion Ricardo Menderez out of Mexico. The success
of her self-defense display comes first and foremost from
her hard training at White Viper Karate where she studies
and also helps teach anti-bullying self-defense techniques.
Also for the second year in a row, 13-year-old Elizabeth
Chase won an NBL Silver Belt in her continuous sparring
division winning seven out of nine bouts to make it to the
stage finale again. To win any black belt division at Super
Grands, one must not only perform or fight better than a
myriad of other seeded and wild card competitors, but also
pass through a vast array of top martial arts judges many
times over to continue to advance.
White Viper Karate brought 18 local students to the 24th
annual NBL Super Grands including the three Chase girls.
14 of those students, all from West Allegheny, competed
in the color belt amateur circuit of the NBL called SKIL.
Two color belts, Sean Williams of Imperial, PA and Corrie
Klobchar of Clinton, PA both won SKIL Amateur Wold Titles
for Team White Viper. Others that finished in the top three
included Kyleigh Trecki of Clinton, PA, Gary Klobchar, Jr.
of Clinton, PA and Nicky Yokoyama of Oakdale, PA.
"It's something special to take local West Allegheny
residents from this little school in Findlay Township to
the World Games and experience success not only with
my daughters, but with the entire team," said Peter
Chase. He added, "We did it as a family, we teach karate
as a family, and we promote a family atmosphere on our
team. I think that positive disposition goes a long way in
helping individuals and families achieve their martial arts
goals on a global scale."