A new documentary about the history of mixed martial arts has begun filming in the Greater Pittsburgh area. MinusL, a production company based out of New York, NY has secured the rights to produce the new feature. http://www.toughguysdoc.com/
Ten years before the debut of the Ultimate Fighting Championship, two local martial arts promoters and their fighters, a rough group of barroom brawlers, bikers, teachers and steel workers, pioneered the first mixed-martial arts league in the nation.
The first Tough Guy Contest took place March 20, 1980 in New Kensington, PA. The company organized a league of events and promoted over 10 competitions across Pennsylvania under the banner of "Battle of the Brawlers," "Battle of the Tough Guys," "Tough Guy Contests" and finally re branding to "Super Fighters" throughout 1980. Notable locations included the Stanley Theater in Pittsburgh, Johnstown War Memorial, and the Philadelphia Civic Center.
CV (Caliguri and Viola) Productions was the first MMA based promotional company in American history, established in 1979.

Bill Viola wrote the first codified set of mixed martial arts rules in 1979; implemented in over 130 bouts. Those standards parallel the unified rules of today.
The World Martial Arts Fighting Association (WMAFA) sanctioned all CV Productions events and was the first regulatory body for mixed martial arts in the United States.
CV Productions introduced open regulated mixed martial arts competitions to the United States March 20, 1980 in Pittsburgh, PA with the inaugural "Battle of the Tough Guys" championship. This was the first commercial MMA success and the beginning of a new sport.
Later in 1980, the "Tough Guys" were rebranded as Super Fighters to accommodate a professional fighting image: The "Super Fighters League" (SFL). This was the first MMA league of its kind and set the tone for mainstream mixed martial arts.
Pennsylvania became the first state in history to set a legal precedent for mixed martial arts, officially banning the sport of MMA with the passage of Senate Bill 632 (Session of 1983 Act 1983-62).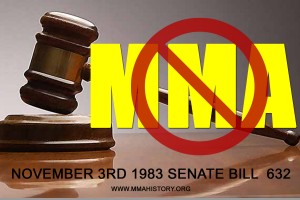 The groundbreaking law was drafted specifically to outlaw CV Productions' events and provided detailed language that defined mixed martial arts competition by prohibiting:
"ANY COMPETITION WHICH INVOLVES ANY PHYSICAL CONTACT BOUT BETWEEN TWO OR MORE INDIVIDUALS, WHO ATTEMPT TO KNOCK OUT THEIR OPPONENT BY EMPLOYING BOXING, WRESTLING, MARTIAL ARTS TACTICS OR ANY COMBINATION THEREOF AND BY USING TECHNIQUES INCLUDING, BUT NOT LIMITED TO, PUNCHES, KICKS AND CHOKING."
Ten years after the passage of Senate Bill 632, the first Ultimate Fighting Championship (UFC) would debut in 1993.
More Reading:
http://godfathersofmma.com/first-state-to-ban-mma/
https://toughguycontest.com/
https://mmahistory.org/toughman-vs-tough-guy/