GNC & BioRhythm Pittsburgh Fitness Expo presented by Bodybuilding.com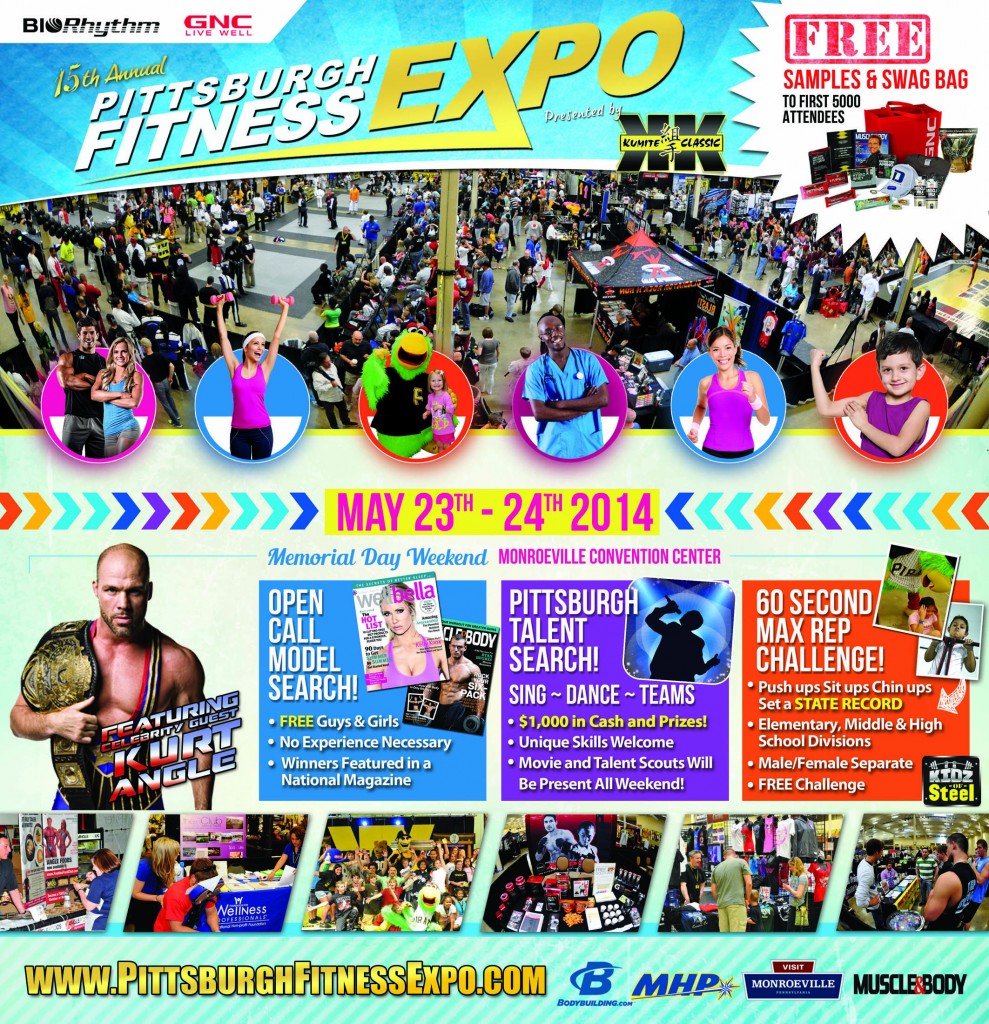 The region's largest and most established fitness, health, wellness and sports expo returns to the Monroeville Convention Center May 23-24th 2014.  For the past 15 years, The Pittsburgh Fitness Expo has been paving the way for healthy active lifestyles as the area's most exciting multi-sport extravaganza. The fitness festival features 20 different athletic and fitness competitions surrounded by a full scale interactive consumer expo that highlights health, wellness and nutrition.
The cutting edge expo showcases the latest fitness products, exercise equipment, sports gear, clothing, nutritional supplements, health foods, and cosmetic, advancements. Elite level coaches and trainers are on hand to discuss the dynamics of sports performance and athletic advancement.  Wellness consultations are available with industry professionals and onsite evaluations are presented by doctors, physical therapists, chiropractors, and natural health experts.  The convention collaborates with health professionals and educators on comprehensive and sustainable approaches to preventing and reducing serious health problems from both conventional medical and holistic approaches.
The multifaceted expo is surrounded by "non-stop action" playing host to simultaneous championships, competitions, and demonstrations in one expansive area for spectators to enjoy including: world class bodybuilding, fitness, figure, model, dance, physique, strongman, powerlifting, teen strength, wrestling, grappling, jiu-jitsu, and karate.  The expo is also home to the Kumite Classic, a world renowned martial arts championship that is the signature event of the weekend.
Spectators from around the country have the opportunity to participate in workouts, seminars, certification courses, competitions, and challenges. The general public can meet & greet with celebrities, world record holders, professional athletes, Olympic Champions, and fitness icons.
We are proud to announce that the first 5000 attendees at the show this year will receive a GNC "Swag Bag" filled with free samples and goodies from some of most popular brands in the industry including: BioRyhthm, MHP, and more.
Come see why the media has dubbed the expo "The one stop shop for everything fitness" as thousands of fitness enthusiasts and health conscious consumers from across the nation visit the Monroeville Convention Center Memorial Day Weekend.  Tickets will be available at the Convention Center box office.