North Huntingdon 9-year-old claims international kickboxing title

STEPHEN HUBA | Sunday, Nov. 11, 2018, 10:33 p.m.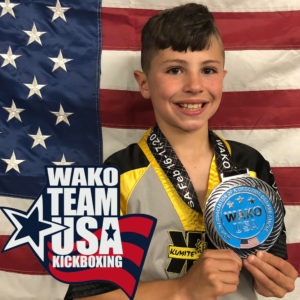 Xander Eddy might look like a normal student while he's walking the halls of Sunset Valley Elementary School in North Huntingdon.
But he's got a secret weapon – his hands and his feet.
Xander, short for Alexander, recently became the youngest American to ever win the Pan American Kickboxing Championships, held Oct. 23 to Oct. 28 in Riviera Maya, Mexico. The fourth-grader is still basking in the glow of his record-setting performance, as was evident Thursday night as he trained at Allegheny Shotokan Viola Karate in North Huntingdon.
"I knew I had a very good chance. I just didn't know I'd make it as far as I did," he said.
Xander, 9, defeated a young Guatemalan competitor to take the gold medal in the open weight class for Team USA. More than 30 countries in the Western Hemisphere were represented in the competition.
Xander dominated six rounds against top-ranked athletes from Chile, Puerto Rico and Mexico with a combined score of 30-3, said his sensei, Bill Viola Jr. After two rounds in the finals, the score was tied, forcing an additional round to determine the champion.
"(Xander) scored a sidekick to take the lead, and as time expired, he executed his patented 'ax' kick to win gold," Viola said.
Teammate Luke Lokay, 15, of North Huntingdon, took bronze for Team USA.
Xander said he was surprised by the championship, but his dad wasn't.
"Every tournament we go to, I'm just in awe," his father, A.J. Eddy said. "I just watch him and the things that he does, and I'm speechless. He does so well – it amazes me."
Xander started taking karate lessons when he was 4. It didn't take long for his parents and his sensei to sense something special in his abilities.
"The thing that set Xander apart right away was his attitude — he would put that work ethic in that a lot kids wouldn't," said Viola, whose father, Bill Viola Sr., founded the karate studio in 1969 and still gives lessons.
Viola also cited Xander's "natural athletic ability" and his support system, including his parents, A.J. and Dana Eddy.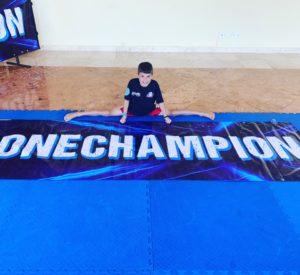 Xander trains at Viola Karate six days a week, mostly because he wants to be there. "I would say probably 90 percent of it is him," A.J. Eddy said. "There may be a day within a month, at the most, where he might come home from school and say, 'I don't want to go to practice today.' "
He takes Tuesdays off. And when he's not studying or training, he enjoys fishing, playing video games and hanging out with his friends.
Two months before the Mexico trip, Xander suffered a potentially career-ending injury when he shattered the growth plate in his foot while practicing. The injury affected his base leg, which is critical for kicking and movement.
Viola said Xander beat the odds through tenacity and extra training, ultimately making a full recovery in time for the Mexico tournament.
"He didn't miss a class," he said. "Little by little, he started showing signs of the old Xander. In the week prior, we pushed him hard. He peaked right at the right time."
Xander said he now feels stronger than ever.
"I feel really confident with it now because (Viola) said it's more stable and stronger than it was before I was hurt," Xander said. "He worked with me on my kicks because I couldn't balance really good on my foot. It was tough."
In the weeks and months ahead, Xander has tournaments scheduled in New York, Chicago, Los Angeles, Atlanta, Miami, Wisconsin and Minnesota.
"Other than that, he's just a normal kid," his father said.
Stephen Huba is a Tribune-Review staff writer. You can contact Stephen at 724-850-1280, shuba@tribweb.com or via Twitter @shuba_trib.
Xander is a martial wayist who studies at Allegheny Shotokan Viola Karate Dojo in Pittsburgh, PA.
North Huntingdon youth claims kickboxing gold medal at Pan American
championships
KAREN KADILAK | Friday, Nov. 9, 2018, 6:45 p.m.
A 9-year-old North Huntingdon boy is kicking his way toward the top of the martial arts world.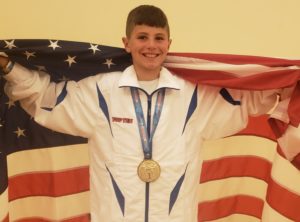 Xander Eddy earned a gold medal for Team USA in the male open weight 9 years category at the World Association of Kickboxing Organizations Pan American championships Oct. 23-28 in Riviera Maya, Mexico.
He was one of 10 entries from four countries. Competitors from Guatemala and Mexico came in second and third.
Bill Viola Jr., Eddy's sensei, or teacher, with Allegheny Shotokan Karate in North Huntingdon, said the next big step is the 2019 World Karate Commission Championships in Niagara Falls, N.Y.
"We are already training," Viola said.
Eddy came back from a foot injury, which made him determined.
"I trained a lot harder," he said.
Eddy, a Norwin fourth-grader who has been kickboxing for five years, said he is improving following up with his hands.
Started in Europe in 1976, kickboxing is a contact fighting sport that includes punches, as well as kicks.
Eddy was one of two Allegheny Shotokan Karate members who qualified at the WAKO USA Nationals in Feb. in Kansas City, Mo.
Luke Lokay, 16, of North Huntingdon, a Norwin sophomore, competed in the male under-63-kilogram.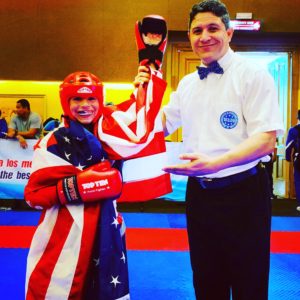 Viola said work ethic and attitude set Eddy and Lokay apart.
"They push each other with no ego," Viola said. "They lead by example and inspire the rest of (the) students.
"Win or loss, they represent America with character. Their parents are hands-on and sacrifice a lot for them (to) compete."
Lokay, whose father took him to his first class when he was 4, said his goal is to win the world championship.
Karen Kadilak is a freelance writer.