Gabby Viola Joins the Viola Karate Legacy
On August 17th 2021, Pittsburgh area karate champion Gabby Viola celebrated her 11th birthday and simultaneously became the youngest Black Belt at Allegheny Shotokan, a dojo that dates back to the 1960s. Gabby joins a Pittsburgh karate legacy that includes three generations of Viola black belts including her Grandfather, Bill Viola Sr., father Bill Viola Jr., and four aunts (Addie, Jacque, Ali, and Joce).
Her granddad aka "Papa Sensei" is accredited as the co-creator of mixed martial arts (MMA) and karate pioneer, while her father, Bill Jr., is a former World Champion and bestselling martial arts author. She's following in her family's footsteps literally as her dad explains, "She's been kicking before she could walk." Her mom, Jenn Viola, tells us, "She literally grew up in the dojo. It was like her playground." The rank itself is an accomplishment that less than 100 people have achieved in over fifty years, but what's even more impressive is that she did so fighting an incurable form of colitis – Inflammatory bowel disease.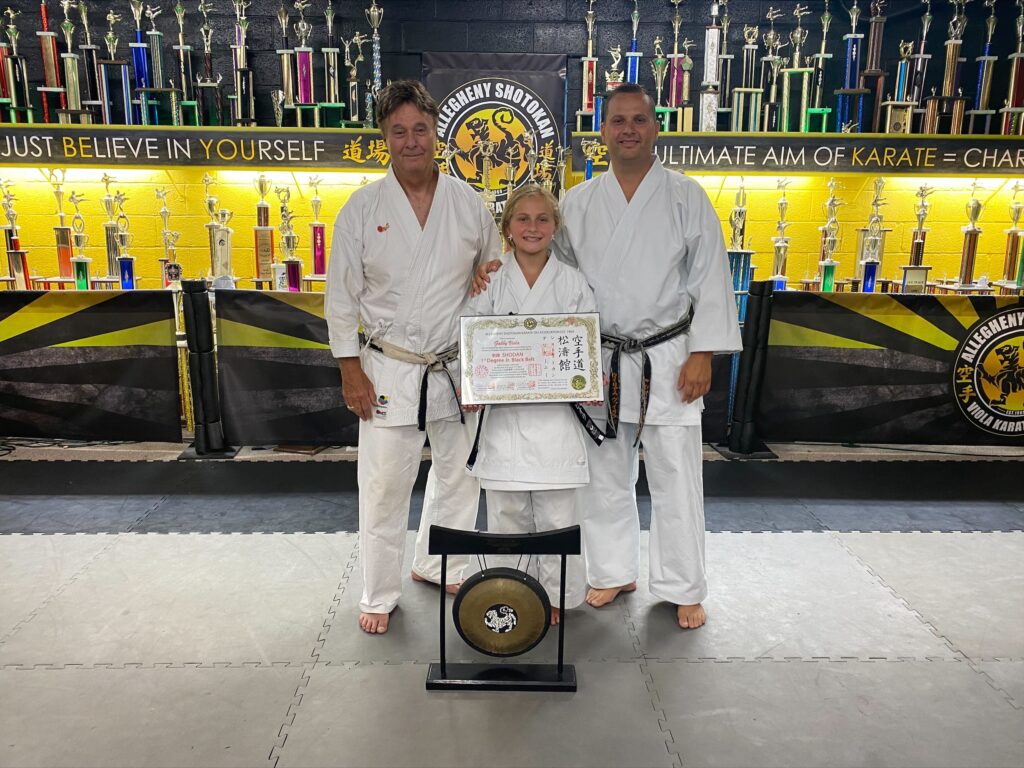 In 2018, Gabby was diagnosed with bowel disease, and her immune system has been constantly under attack since. From the outside it is difficult to tell she is sick, but on the inside she suffers from severe bleeding, dehydration, abdominal pain, cramping, fatigue, inflammation of joints, skin and eyes, and a swelling colon. She was only seven-years-old when discovered; no family history of the illness. Martial arts teaches perseverance, and she decided that nothing would stop her from earning her black belt someday. She chose to be a "fighter," and has been proactive meeting with the best specialists, naturopathic and holistic experts. Treatment includes trials, diets, meds, steroids, tests, and therapy. She is under the care of Dr. Sandra Kim, a nationally recognized expert in pediatric and adolescent inflammatory bowel disease at UPMC Children's Hospital where she is treated with monthly infusions. Although she has had a number of setback and emergency room visits, earning her black belt has remained in focus.
He father, Bill Jr., is a USA National Champion and All-American Athlete has passed the torch to his daughter. Despite the risk of having a "flare" (major symptoms after a period of remission) she has competed nationally across the country. In 2019 she won Gold at the WKC National Championships and earned a spot on "Team USA." She was one of the youngest participants (only a brown belt), in a pool of seasoned black belts. She has been recognized as a 5x State Champion and ranked #1 in the North American Sport Karate Association (NASKA) for black belt sparring in 2020 before the global Covid pandemic. Her efforts paid off when the August issue of Black Belt Magazine ranked Gabby as a "Top 5 Female" competitor in the North America. Most recently at the 2021 US Open in Orlando, Florida she was awarded "Competitor of the Year" by Point Fighter Live. The honor, dubbed as a "Power Award" was voted on by coaches, competitors, and promoters from across North America. After a nationwide poll, Viola not only won her category (edging out a talented competitor from El Paso, Texas) but was the highest vote getter of the show. Her dad couldn't be more proud saying, "Win or lose, Gabby leaves it all on the mat. She's had to fight harder than the average kid, but that has made her stronger. She has indomitable spirit." Her winning ways opened doors and the opportunities to train with the best athletes in the world, including Sandra Sánchez of Spain, the first Olympic champion in karate history. Inspired to say the least, Gabby named her Olympic edition Barbie "Sandra." Gabby and her teammates cheered for Sánchez on from the dojo, watching the Olympics live on 20-foot outdoor screen like a drive-in theater. Gabby said, "I knew Sandra was going to win. She is the most powerful woman I know."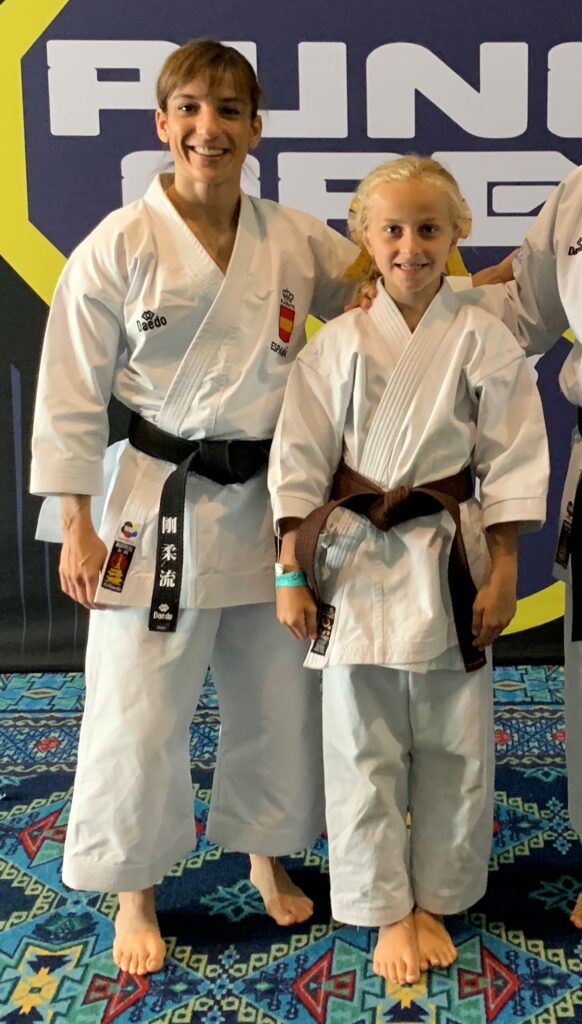 Bill Jr. explains, "Gabby has what I call 'zentensity,' a body-mind connection that pushes past what you thought was possible. That is a term he coined the book "CommonSensei." It's a mindset that leaves nothing to be desired – 100% effort. Outside the ring she is shy and reserved. Inside the ring, she transforms into tiger." "Zentensity" is what has led her to this moment. She chose her birthday to partake in the final most difficult part of her young martial arts journey. The shodan test (1st degree black belt) is a grueling mental and physical challenge. It is a four-month process that encompasses learning a vast history of martial arts, Japanese terms, hundreds of techniques, endless combinations, self-defense maneuvers, and physical endurance. Many organizations award black belts in a short window of time, but Allegheny Shotokan is "old school" and upholds the strictest of standards. The Viola family including Gabby is held to a higher standard. The final exam represents nine years of training, thousands of hours of practice, and hundreds of competitions. Gabby says, "I wanted to be like my Dad. My black belt is better than any trophy."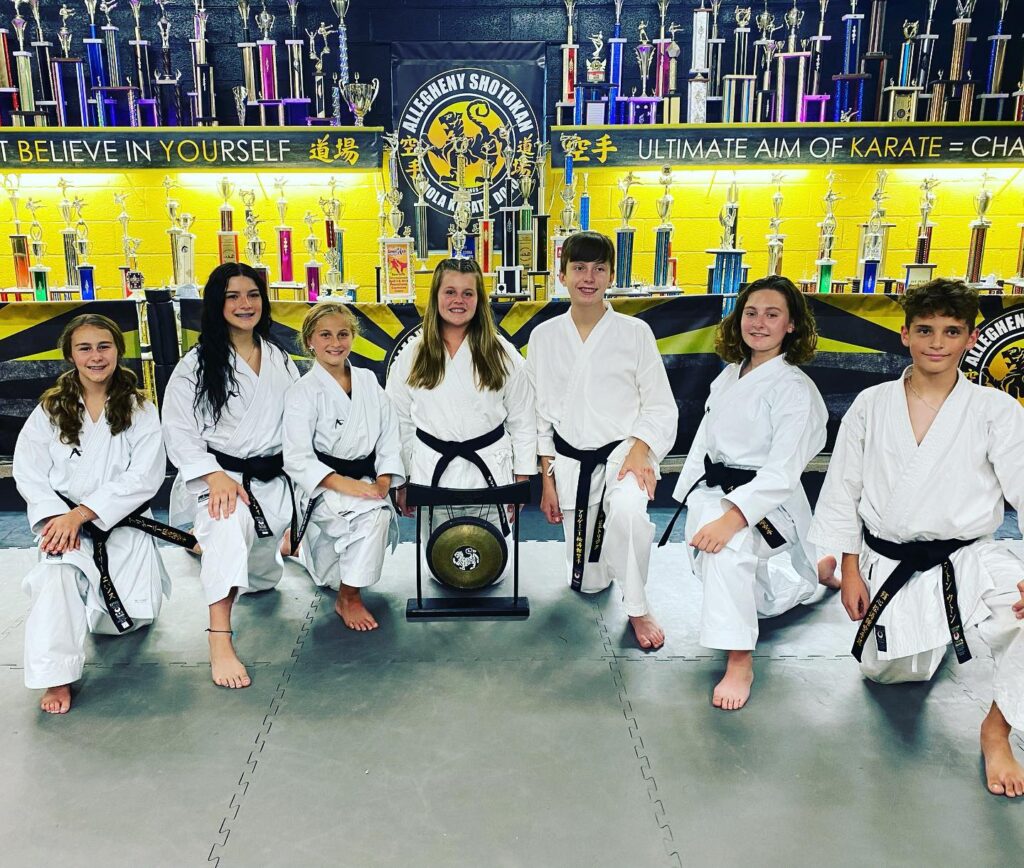 She shared this honor with teammates and lifelong friends who also took the test including Remington Whatule, Lucy Lokay, Sammy Pietryk, Michael Pietryk, Taylor Provence, and Riley Evans. Whatule traveled from Los Angeles, California to test with Gabby, a special honor set up since he is the son of Sensei Bill's best friend, 4th Degree black belt Rocky Whatule who began his training at Allegheny Shotokan nearly thirty years ago. Viola Jr. says, "The bonds formed in martial arts are lifelong."
Birthdays have a special place in Allegheny Shotokan lineage. On September 23, 2019 the Pittsburgh region celebrated "Sensei Viola Day" in honor of Allegheny Shotokan Karate's 50-year dojo anniversary. It was symbolic as the date coincided with William Viola IV's birthday. That is Gabby's 4-year-old brother's birthday who trains in the "Nursery Ninja" program, and holds a yellow stripe belt. Now Gabby's birthday will forever be a reminder of her most important victory, and constant reminder she can do anything. Viola Jr. says, "The belt is something physical around your waist, but the lessons learned are from the heart. She is on her way to being a 'black belt in life,' and that's all that matters."
For more info.  Contact Bill Viola Jr.  724-640-2111 bill@kumiteclassic.com
Gabby interviewed on CBS/KDKA TV: Read more