Interview with Bill Viola Jr. Author of Amazon Best Seller 'Tough Guys'
By Heather Holtschlag |  
Tough Guys (2017) Kumite Classic Press available on Amazon
Why and when did you decide to write Godfathers of MMA?
The real story of who invented the sport of MMA in America was in jeopardy of being lost forever. My father and his business partner created a regulated MMA in 1979, and I needed to set the record straight. They deserved credit and I was shocked that all of the history books available were clueless.  It began as a passion piece to provide information and morphed into the most the most comprehensive book on early MMA history.  My cousin Dr. Fred Adams and I took on the task of documenting a forgotten time and place for the sport.  We bring you back to the Golden Era of MMA.
What is the book about?
You get an inside look into the minds and events of the men who "mixed" the martial arts a decade before the UFC (Ultimate Fighting Championship."  They created a new sport in the form of the Tough Guys. 
How did things with the movie get started?
Shortly after the exclusive preview run of Godfathers of MMA, Pittsburgh Post-Gazette reporter Robert Zullo stumbled upon the Tough Guys exhibit featured at the Heinz History center. The display recognizes Pittsburgh as the Birthplace of MMA. The display is located right next to Franco Harris's immaculate reception and catches a lot of attention.  Zullo explains, "I couldn't believe I'd never heard about this story. I was enamored with the time, place and machismo of the whole thing. I just had a gut instinct to meet these guys."   Zullo reached out to his brother Will and childhood friend Craig DiBiase a producer [MinusL] and Director Henry Roosevelt from New York City. Zullo also got his Academy Award winning cousin, Ross Kaufmann, on board.  Two years later after 52TB of filming, the Tough Guys Doc was born.
When did the movie start in production?
Production began in the summer of 2015.  One of the feature locations was Allegheny Shotokan Karate in North Huntingdon. My favorite location was Ritters Diner which we retrofitted to look like a 1979 Dennys.  I played my father in a famous scence where we hashed out the name 'Tough.'
Was it all filmed in Pittsburgh?
We had 18 locations from Florida to New York but the bulk of the footage and interviews were from Western Pennsylvania (North Huntingdon, New Kensington and Pittsburgh).
How did the name Tough Guys come about?
In the late 1970s and early 1980s, Pittsburgh was the epitome of a blue collar 'tough' city.  This sport would be an open call for the 'toughest' guys on the planet to fight, so Tough Guys was fitting for the era.
Who starred in it?
The documentary stars the men who lived it.  We were fortunate to film the original fighters and pioneers.  One of the stars was Dave Jones.  He trained at my father's dojo and actually worked for North Huntingdon Township as part of a 'road gang' and laborer.  Dave fought in the first fight and won by TKO.  He was fearless–I looked up to him as a kid.
Can you tell me about the production process…your role, how production went, any details you can add about the highlights of the movie?  I
had the unique experience to wear many hats on the project: the production end, consulting end, and even played a 1979 version of my father in the famous 'Denny's Restaurant' scene. Since my book was the master outline, I had to on point.
When did the movie premiere?
Initial praise attracted a star studded lineup of executive producers including Academy Award® Nominated Morgan Spurlock (Supersize Me) and Oscar winning writer Ross Kaufmann (Born in Brothels).   The world premiere of "Tough Guys" took place at the American Film Institute (AFI) Docs on June 15th 2017 at the famous Landmark Theatre in Washington, DC. It was screened the day after the mega Mayweather / McGregor announcement. The film sold out.
And when did it air on Showtime? September 15th
Will it be shown again in the future?  It aired all of September and October. Then it will be distributed internationally.
Do you have plans to write anymore books or be involved in any other movies?
After the Showtime debut, my commemorative edition of the book retitled 'Tough Guys'. It just hit #1 on the Amazon Best Sellers list for sports today.  It's received critical acclaim and we've been getting offers for a screenplay to turn the journey into a major motion picture.  That is my ultimate goal.  With the right team, I know this could an Oscar worthy drama.
An interview with the Bill Viola Jr. (Author of Amazon #1 best seller Tough Guys).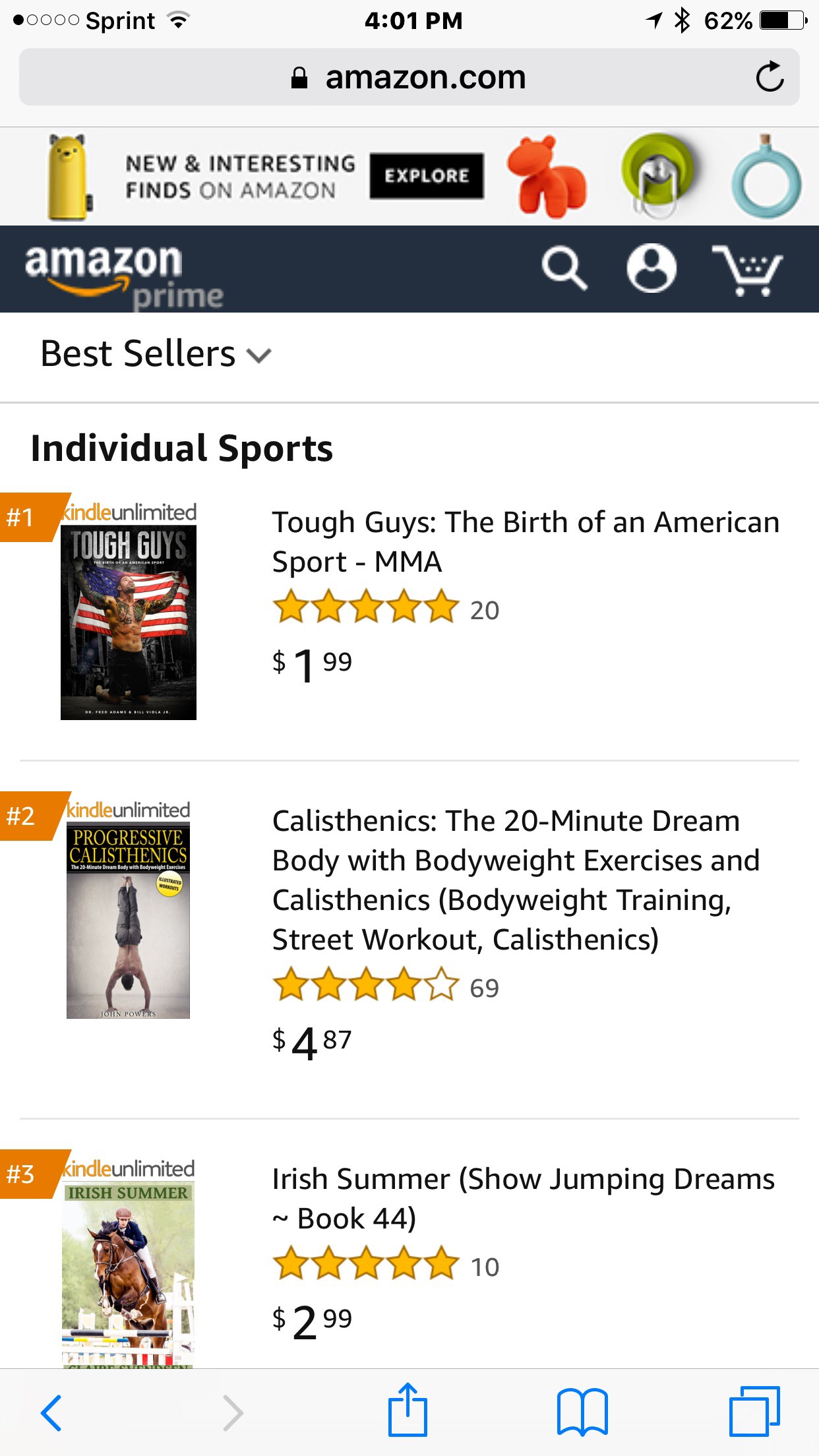 How passionate are you about MMA?
I am most passionate about teaching and sharing my knowledge.  It's a family legacy.  All my siblings are black belts and now I am mentoring my daughter (Gabby) and will have my son William Viola IV who was just born in September on the mat soon.
What, exactly, is MMA?
MMA (Mixed Martial Arts) is a sport that combines all disciplines of combats sports (boxing, karate, wrestling, judo etc.) fighting into regulated competition.  My father is credited for writing the first legitimate rule book in 1979. The UFC, the sports largest franchise, was sold for 4 billion dollars in 2016.  If Pennsylvania didn't outlaw the sport in 1983, my father and Frank would be at the helm of that empire.
How can people get a copy of the book?
The book is available on Amazon.  Just google 'Bill Viola Tough Guys'
Tough Guys #1 Amazon Best Seller Mixed Marital Arts MMA Book
Tough Guys in the News
Tough Guys IMDb
Showtime:  "Tough Guys" Sho.com
Madarasz, Anne.  "Tough Guys".  Western Pennsylvania History, Volume 94, Number 3, fall 2011.
Bloom, Elizabeth.  "From Pittsburgh roots, MMA, UFC have grown to staggering heights" Pittsburgh Post-Gazette.  February 19, 2016.
Page-Kirby, Kristen. "AFI Docs is your ticket to 3 world-premiere films"   June 15, 2017 Washington Post
McNary, Dave.  " Morgan Spurlock to Exec Produce MMA Origins Documentary 'Tough Guys' (EXCLUSIVE)"  June 13, 2017 Variety
Klimovich-Harrop, Joanne.  "'Tough Guys' traces MMA's roots right back to Western Pennsylvania"  Sept. 12, 2017.  Pittsburgh Tribune-Review
Whalen, William.  "'Tough Guys' documentary profiles local creators of MMA Viola, Caliguri"  July 8, 2017.  Pittsburgh Tribune-Review
Golightly, Justin.   "Showtime to Air New 'Tough Guys' Documentary on Early Days of MMA" August 29, 2017.  BJpenn.com
Sciullo, Maria.   "Showtime documentary proves Pittsburgh-area early mixed martial arts fighters were 'Tough Guys'"  Sept, 15 2017.  Pittsburgh Post-Gazette
"'Tough Guys' documentary sheds welcome light on forgotten MMA tourney that pre-dates UFC 1"  Mike Chiappetta Sept. 15, 201.7 MMA Fighting
Bowen, Jessie.  "Who's Who in the Marital Arts, Legends Edition." September 25, 2017.  Page 365.  ISBN-10: 1387161539