Durham, NC, December 1, 2020 – Jessie Bowen, Director of the American Martial Arts Alliance Foundation announced the release of highly anticipated 2020 MARTIAL ARTS MASTERS & PIONEERS CHUCK NORRIS BIO BOOK – US & World Edition.
The Viola Karate Family Honored in Chuck Norris "Who's Who" Book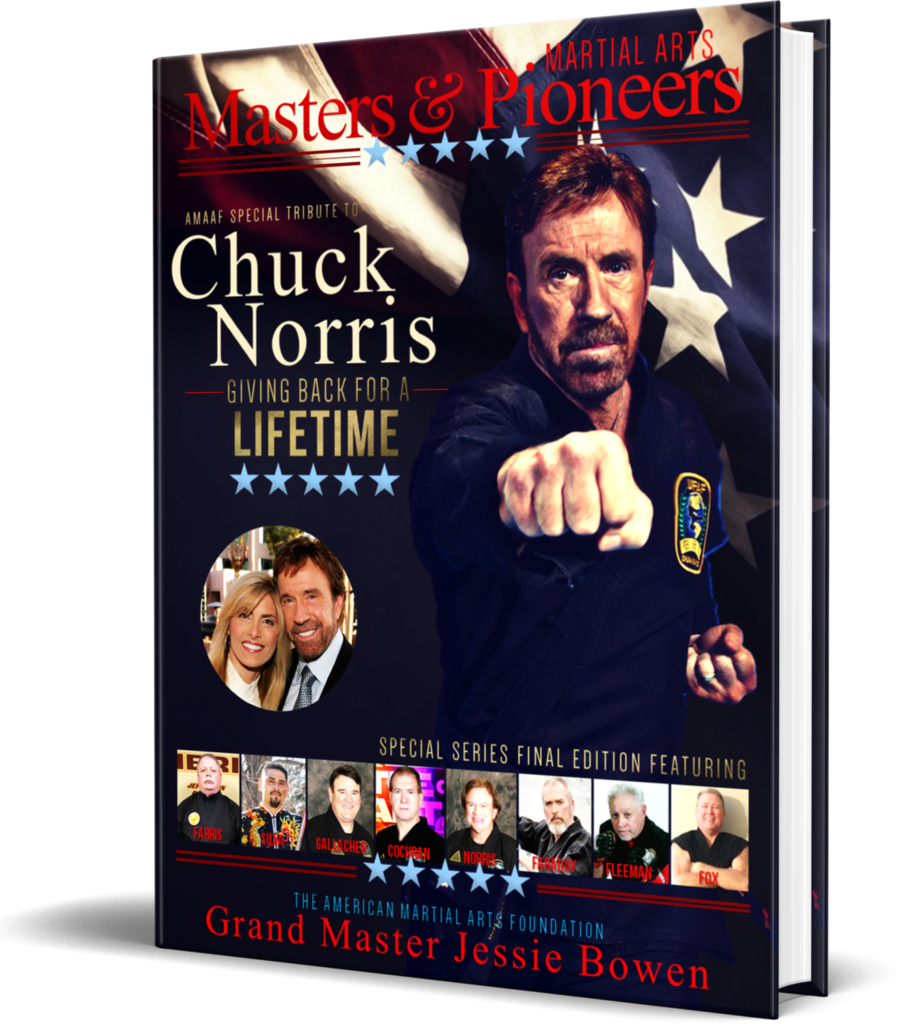 Father and Son karate experts, Bill Viola Sr. and Bill Viola Jr., have been inducted into 2020 AMAA "Who's Who Legends Hall of Honors" alongside martial arts icon Chuck Norris. The pioneers are featured in the 2020 edition of Who's Who in the Martial Arts Book, an autobiographical publication that is one of the most recognizable martial arts titles worldwide and is an essential guide for preserving history. Viola Sr. states, "It's a huge accomplishment for an individual, but having us both recognized as pioneers is something special. Karate is our way of life."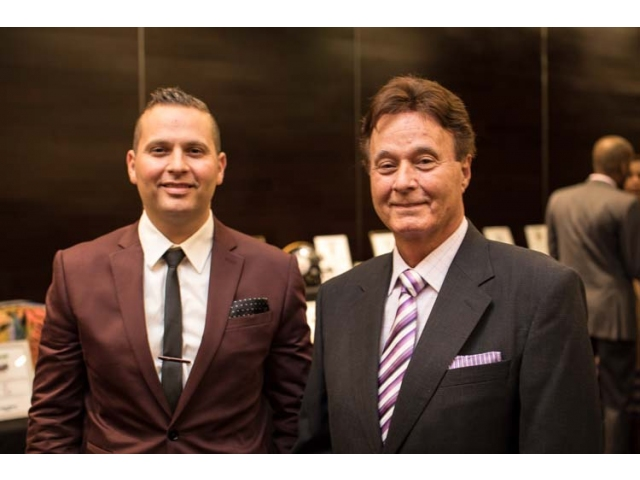 Bill Viola Sr. is the family patriarch of a Pittsburgh's most famous karate legacy. He is one of the most well-known figures in the karate industry and last year Allegheny Country council honored him by naming September 23rd as "Sensei Viola Day" in recognition of his 50-year anniversary founding Allegheny Shotokan Karate in Western Pennsylvania. Viola Sr. began his journey in combat sports in 1955 in Brownsville, Pennsylvania taking up boxing lessons from the legendary Marion "Slugger" Klingensmith. In High School he took up Karate and has never looked back. In 1969 he opened his first dojo and then in 1979 he wrote the rules for mixed martial arts (MMA) competition. He has since been honored by the Heinz History Center as the co-creator of the sport of MMA more than a decade before the UFC. His life story was the subject of the books Godfathers of MMA (2014) and #1 bestselling sports book Tough Guys (2017) which inspired the Showtime film Tough Guys (2017) produced by an Academy Award winning accredited team. He is a member of the USA Karate Hall of Fame, and was named by California University of Pennsylvania as an Illustrious Californian Award (2020).
Bill Viola Jr. has followed in his father's footsteps taking the reins of the family owned and operated dojo which now includes the third generation of Viola's (his daughter Gabby and son William Viola IV). Viola Jr., a multiple time USA Karate National Champion and All-American Athlete was named World Champion in 1998 by Arnold Schwarzenegger. In fact it was Arnold that encouraged Viola to establish his own production company, and in 1999 he founded Kumite Classic Entertainment which grew into the mecca for martial arts and fitness in the Pittsburgh region.
Viola Jr. is an accredited associate producer, producer, and executive producer with credits in Pittsburgh area films including Warrior, Tough Guys, and most recently had a cameo as Mary Steenburgen's "Karate Sensei" in the Hulu's "Happiest Season" which debuted on Thanksgiving. ⬇️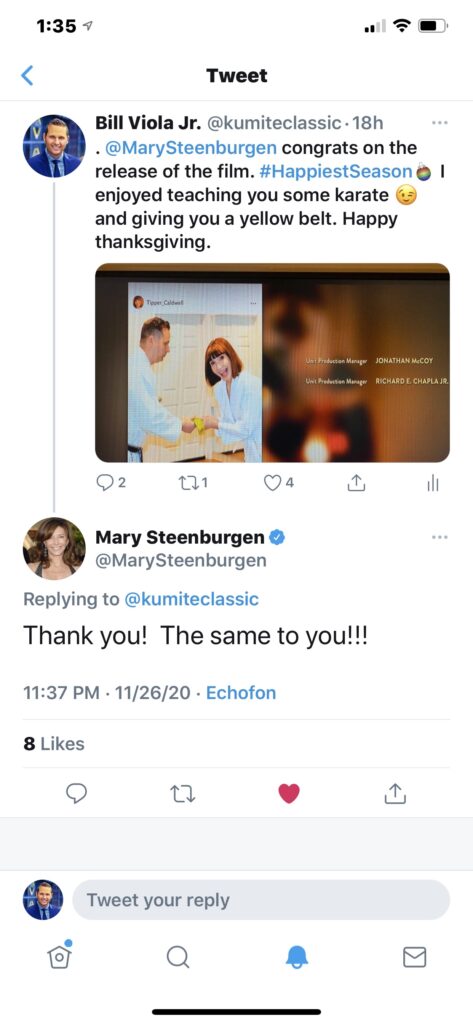 Viola Jr. is a #1 bestselling author whose latest project CommonSensei is creating major buzz in the self-help genre. His book series, where each volume you can earn a different colored belt, is slated to launch in 2021. The project is aimed towards millennials and Gen-Z sharing, "everything they should teach you in school, but don't." Viola explains that the goal of series is becoming a, "Black Belt in Life." He was just honored as "Author of the Month" (December 2020) by Elite Publications out of North Carolina.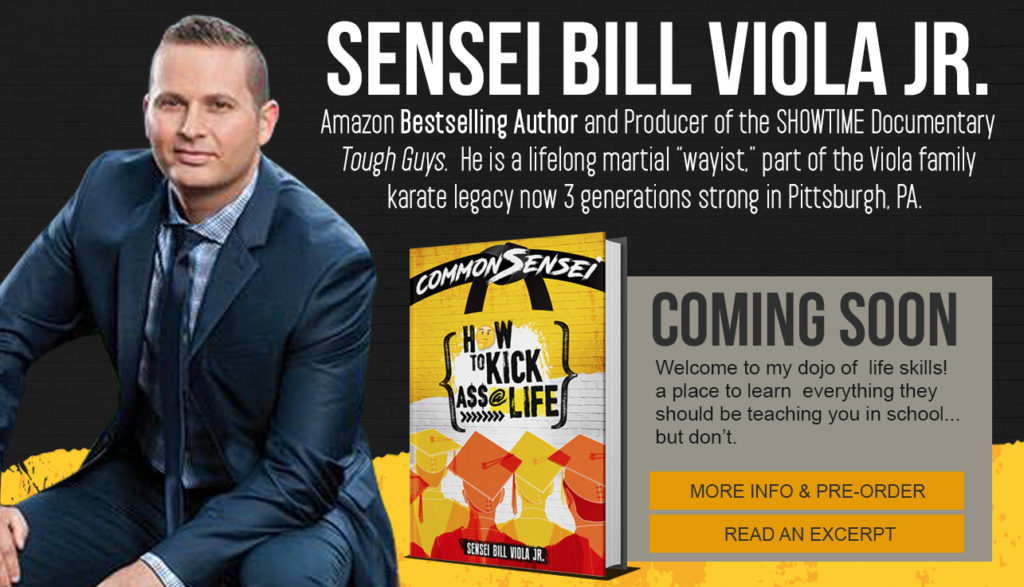 The Pandemic has shifted the "Who's Who" ceremony to an online presentation. December 5th, will be the official public release of the Chuck Norris Martial Arts Masters and Pioneers Biography Book and Online Emerging Leaders Conference with special guest speaker Laura Silva Quesada, world renowned transformational coach and author. There will also be online Seminars, martial arts demonstrations and a special salute honoring Grandmaster Chuck Norris, and the Violas.

Jessie Bowen (publisher of Who's Who) explains, "We are dedicated to preserving and sharing our inductee's extraordinary journeys with the world. The book is the first of its kind that combines a martial arts history book and directory all in one.
The new Chuck Norris book will be available at Barnes and Noble, Amazon, Lulu, and other book outlets.
For more information, interviews, and demonstration contact Bill Viola Jr. 724-640-2111