Congratulations to our very own President and founder Bill Viola Jr. on making the prestigious "40 under 40" List in Pittsburgh.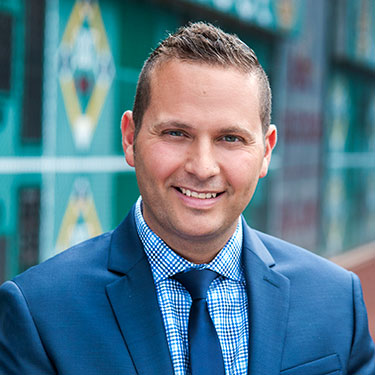 Bill Viola Jr.   [39]
President, Kumite Classic Entertainment Corp.
Pittsburgh often is credited as the birthplace of a self-defense discipline known as Mixed Martial Arts.
Bill Viola Jr. is the author of the book "Godfathers of MMA," which chronicles the life of his father, Bill Sr., and explores the world of martial arts as first developed west of the Alleghenies. The younger Viola is known internationally for his work in the martial arts industry, founding the highly regarded annual Kumite Classic in 1999.
He also was named to the U.S. Karate Hall of Fame in 2005 and was the winner of the Willie Stargell Pittsburgh MVP Award in 2011 for his work training youth in martial arts programs.
He currently is head instructor at his family's Allegheny Shotokan Karate studio, founded in 1969, and he is the founder and producer of the Pittsburgh Fitness Expo.
The biggest thing I ever had to overcome … In 1999, I was in a car accident that ended my competitive martial arts career. Going from world champion to watching on the sidelines was complete culture shock, but the injury was actually a blessing. In rehab, I found my true passion, being a sensei (teacher). Seeing my students succeed is more rewarding than any title I won.
http://www.pittsburghmagazine.com/Pittsburgh-Magazine/November-2016/40-Under-40-2016/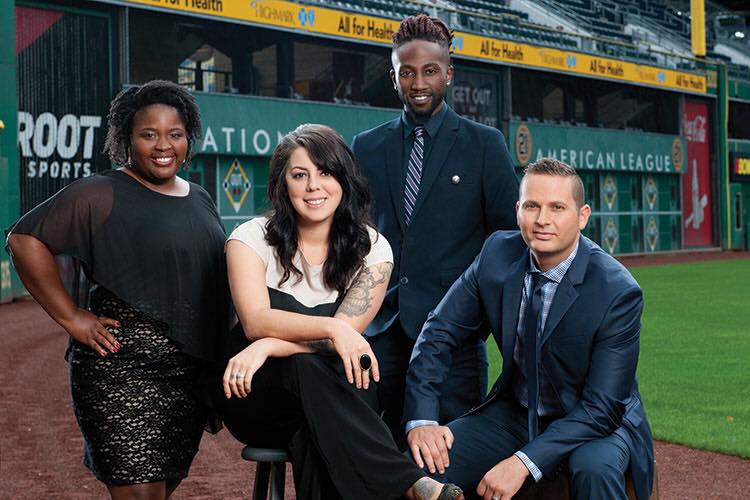 40 Under 40: 2016
Meet our 2016 class of 40 Pittsburghers Under 40 who are changing our region – and the world – for the better.
By Dennis B. Roddy
PHOTOS AT PNC PARK BY BECKY THURNER BRADDOCK | HAIR/MAKEUP BY TRAVIS KLINGER
People are drawn to lists, and sometimes when a list isn't handy they make one up. Consider Jorge Luis Borges, whose fantastical prose lit up the world of Latin American literature in the 20th century.
He referenced a Chinese list — a taxonomy of different types of animals — and attributed its translation to a known academic of the time. According to this list, animals broke down into categories such as "those that belong to the Emperor," "mermaids," "embalmed ones," "fabulous ones," "those that resemble flies from a distance," and even, "those that have just broken a flower vase."
Scholars spent decades trying to locate the original list which, as it turns out, was stored safely inside Borges' head and nowhere else. The French writer Michel Foucault referenced the Borges list in his book "The Order of Things."

Foucault's main theory was that the thinking of each age is defined by a single, dominant prism of beliefs and constructs through which we view things. Called an "episteme," it set the boundaries for all knowledge and understanding at the time. The episteme for the pre-classical period was based on differences and similarities. In the Classical Period, it was all about order and measurement.
And, so on.
What worldview informs this year's list of 40 Under 40? The conceit of the list is that Pittsburgh Magazine and PUMP invite others to nominate people who, not quite midway through life, have done something — or several things — remarkable. Community service, professional achievement, a general overcoming of obstacles that would stop the rest of us — or all of these factors can land someone on this list.

One of our honorees was inspired by growing up in war-scarred Ethiopia. Another founded a company that provides free, online language-learning to anyone. Still another seems to have succeeded in so many community organizations, she borders on requiring her own, separate list.
The list is so diverse, the personalities so disparate and the accomplishments so varied that fitting our 40 Under 40 onto a single list requires breadth of imagination and depth of understanding. None has broken the flower vase, nor have we noticed any mermaids. As to any "embalmed ones," there always is a reception to celebrate this honor, so we'll need to get back to you.

In the meantime, accept that at least on this list, we can include the term "fabulous ones" and not be accused of making anything up.